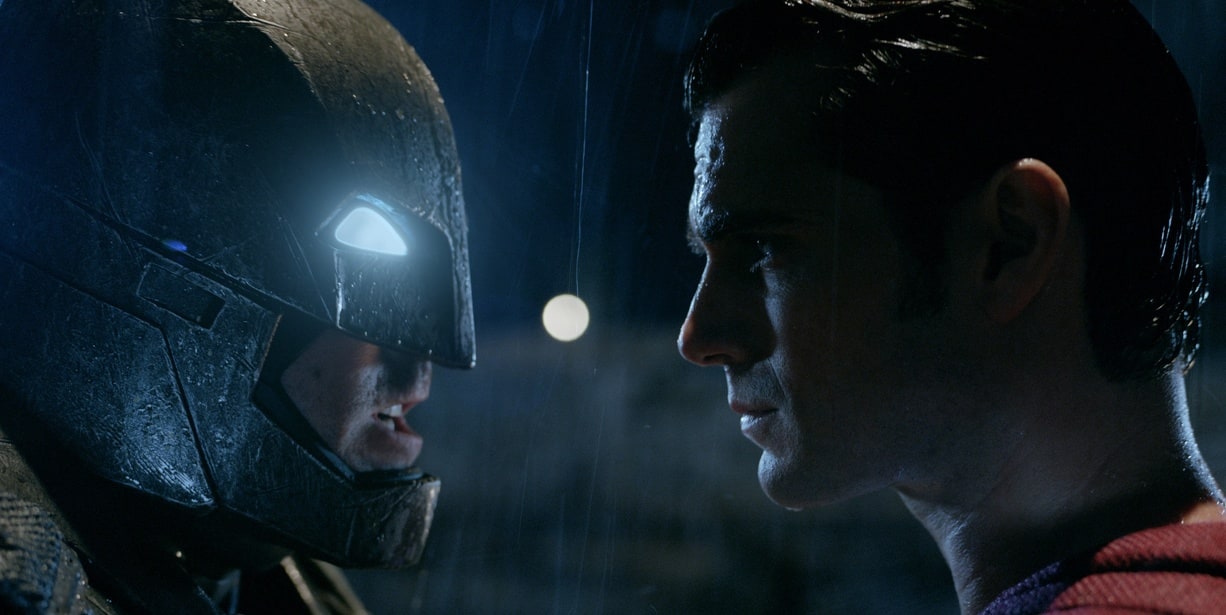 When news came out of a Batman-Superman movie some two years ago, exalted fanboys have been given much more than their dream movies finally coming true, but of a much more titanic fight: Marvel vs DC. Marvel threw the first punch by launching a successful series of solo hero movies before finishing with a haymaker: The Avengers. DC responded with a planned Justice League movie. And it was on. But, Marvel wasn't afraid much. Snyder's Man of Steel was a lesson in excess and bad storytelling, add the furor over the Ben Affleck casting, and BVS became a ticking bomb that could either explode in brilliant magnificence, or implode on its own weight of expectations. The latter being the turnout, according to critics, made expectations grim.
So, the movie came out. Barring earlier reports that it sucked big time, like I always do, with a bucket of popcorn and a root beer, went to see the fight of the century. And to say with all honestly as a fanboy first and a critic, second, it wasn't all that bad.
The story unfolds with young Bruce Wayne's parents getting offed by a random hoodlum, and his transformation into a costumed vigilante that brands his victims with a bat mark. Something Batman has never done before. Batman is rightfully feared that even the sex trafficking victims whom he saved were calling him El Diablo behind his back. This Batfleck version is looking to be even moodier than his predecessors.
Meanwhile, Lois Lane is investigating a terrorist group in Nairobi, Africa when all hell breaks loose and Superman saves her. There are heavy civilian casualties that prompted the Senate to breath down Superman's neck, he is a destructive force and he needs to answer for his actions. Even when he saved the world from Zod and his terra-forming machine, thousands perished and whether Superman likes it or not, is indirectly responsible. Superman becomes the hot topic of conversation with the heading, "Should there be a Superman?"
Lex Luthor proposes kryptonite as a deterrent weapon, while on the side, schemes to make the two superheroes mistrust each other, thus, sets the stage for the inevitable fight. Luthor's Plan B should the fight not end in his favour, is genetically-engineered Doomdsay. Wonder Woman comes into the fray as Diana Prince in town to investigate Luthor that also reveals the existence of meta-humans (for more on meta-humans, watch the excellent Flash TV Series). The trio of superheroes takes on Doomsday to the finish.
Quite alright. The plot is solid and makes sense. And I'm not complaining about all the other sub-stories, like Lois Lane, who comes and goes as she investigates the ties between LexCorp and the mercs, via a found bullet in the desert. Or Luthor dealings with the government to import this huge Kryptonite when he could've easily just smuggled it. Even the guy in the wheelchair. Because, they are all needed in the story. But, much as I hate to say it, Zack Snyder's storytelling again, is the kryptonite of the movie.
In the Senate hearing, Holly Hunter's senator's speech was interrupted when she saw the bottle of Granny's piss peach tea. She was terrified and I was trying to figure out why. Then, I remembered the scene with her and Luthor where the peach tea was mentioned. And it was a long 40 minutes before, that I have already forgotten. Some scenes that connect, I'm afraid, were much too separated from each other. A problem of pacing? Or spacing?
Then there's the overly dramatic musical score which was a destructive force throughout the movie (except maybe the big drums that heralds Wonder Woman's entrance was kind of cool). But, really, do we need Lex Luthor to walk in slow motion on his way to the alien spaceship with a such music?
Dialogue, on the other hand, is a lesser problem. In fact, some of Chris Terrio and David Goyer's lines of speech were memorable and fun. Lois Lane telling the terrorist leader that she's a reporter not a woman jumped out immediately early in the movie. And lest we forget, the famous, "Do you bleed?" Golden. And the recipients of the best lines of dialogues came from the supporting characters. Laurence Fishburne's wicked put-downs as White could've shut up J. Jonah Jameson, while Jeremy Irons' Alfred's lines were speeches delivered as if they were Oscar clips. However, there were moments where lines could've been more direct. Like when Bruce was telling Alfred that he was stealing the Kryptonite to kill the "sonofabitch." He meant Superman, of course, but somehow, he kept referring to him in the third person and they were the only two people in the Batcave. Likewise, in the scene when Superman, begged Batman to, "Find him. Save Martha," where he could've easily said, "Find Luthor, save my mom Martha," could've made things easier.
True, Snyder has the visionary qualities to make a superhero movie. It even rivals the very best comic book creators'. Superman floating in the sky like a messianic god sprayed by sunlight is right out of the pages of Alex Ross' work; Superman surrounded by painted faces in Juarez, Mexico; Him flying down to the Capitol. Synder gets it. He does. But, quite often his melodramatics gets in the way of the story. Dream sequences? Flashbacks? Flash forwards? The Flash? Since when did Bruce Wayne got diagnosed with having hallucinations of the most bleak kind? The allusions that Snyder were trying for slowed down the movie and created confusion most audiences weren't ready for. And if these are the issues most critics are grilling about on behalf of the audience, then I am with them. After all, it is from the movie-going public's pockets that make the profits.
There are other issues that I'd like to put out that only geeks would be hardcore about. Like Superman has the ability to hold his breath for hours, even days, and a second helping of Kryptonite gas would've been avoided. Or why Superman intervened when Batman was pursuing the mercs. Or why Luthor put a time limit to the match. Or why, since Lois Lane seems to have a direct line to Superman whenever she's in trouble, shouldn't Martha Kent have one too? But, these are little things. The fact is, I still enjoyed the movie. It's not the best superhero movie by far, true. Not a Spider-Man 2 or The Avengers or Days of Future Past, but it doesn't need to be. The movie's tone shouldn't be compared with that of the Marvel universe, where heroes have time to sit around for drinks and crack jokes. The DC Universe has taken on a dark, somber tone and this is it as far as Snyder is concerned. Isn't it is entertaining enough just to see two of the most popular superheroes duke it out for the first time in movie history? And while a lot of critics have put the movie down, wrote it on their shit list, and say they can't wait for Civil War, they weren't actually saying you shouldn't see it.