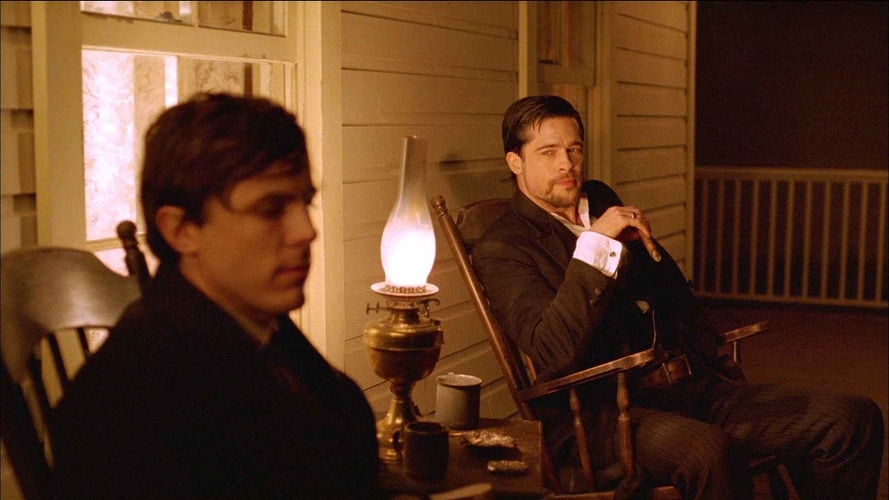 Nine months. That's the length of time between the deaths of Jesse James and Billy the Kid---the two most notorious, most popular outlaws in history. Their deaths also signalled the end of the Old West of gunfights, train robberies and the criminal life of six-shooters.  In movies, the Western genre is also beginning to disappear, perhaps running out of stories to tell.
     Still, in the last decade saw very well-made Westerns like "Open Range," "The Proposition," "3:10 to Yuma," and this, a movie based on author Ron Hansen's tale of James James and his partner and killer, Robert Ford. Quality replaces quantity with well-written stories that tell the darker, different side of the frontier unlike those that John Wayne, Jimmy Stewart and Randolph Scott rode in. But unlike "Open Range" and other fictional Westerns, stories about real-life subjects always have the upper hand. And Jesse James is the biggest Western anti-hero that ever lived.
     In Ron Hansen's book, he details Jesse James' last days leading to his traitorous end. The story penetrates deep into the character's legend, describing nuances, unmasking feelings and by the time James lay dead from a bullet through the back of the head while dusting a picture frame, the story have shifted to the outcome of Ford's deed. "Coward," a word he would carry on until his own assassination. Poetic justice. And it is both in the book and the movie.
     The narrative style of the book is the movie's main handle, a style that sets it apart from others of the genre. Visually, it was beguiling at the start like that shot of James' silhouette awaiting the train. As the story progresses, visual style gives way to apprehension of the ending that even Brad Pitt starts acting like Brad Pitt. Casey Affleck, who plays Robert Ford, is tailor-fit for the role and became an actor of depth almost immediately.
     For that few good Westerns that come and go are enough to keep the West alive. For the 30 short years after the Civil War that it came into existence. For the brazen tales of its heroes and villains, the West is worth telling from time to time.